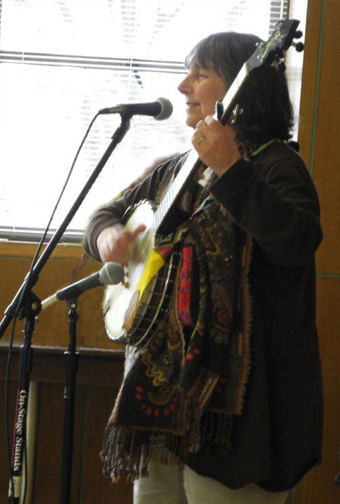 Kim leading a song at a Children's Music Network round robin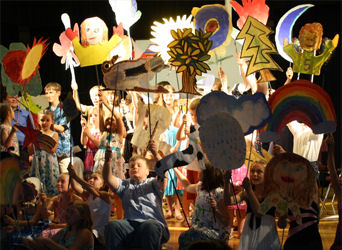 "What a Wonderful World" with puppets and song at a school performance







Children's Programs
Email Kim to plan or book an event
Special K - participatory songs for Pre-K and Kindergarten students.
These can be thematic - food, transportation, or counting to name a few - or you can just leave it up to me. I guarantee 35 - 40 minutes of rapt attention.
Tall Tales and True - songs about American folk heroes and legends,
Suitable for 3rd and 4th graders. Lots of singable choruses,and relates to social studies and language arts curriculum. Songs about Mike Fink, John Henry, Harriet Tubman, etc.
Poetry in the Stars, Music of the Spheres:
Astronomy, Literary Genres and Music -
This collection of songs about the stars, planets and space travel also offers examples of poetry, fiction, non-fiction and science fiction, and plenty of opportunities for students to sing. Includes a song about the planets, a Native American creation myth about the constellations, Swing on a Star, Space Girl and more.
Also available:
Sixties "Hootenanny"
Martin Luther King Day and Black History Month.
Songwriting workshops and residencies,
Around the World in Songs, Stories and Games,
Factory Girl (songs about the weaving industry in England, New England and the South),
Songs of Migration and Immigration.
Contact Kim to customize the program to meet your needs.
Workshops for Educators:
Teacher and counselor training: songleading, repetoire, classroom guitar, etc. Music to enhance your curriculum; portable games for community building: bandanna games and singing games.
Programs are usually 45 minutes unless otherwise specified. Ideas for follow up discussions and activities are available on request.
Programs can not be recorded or videotaped without express permission.
Resources for Children's Educators